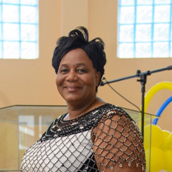 Beverley Grey is the founder and Director of Grey's Training & Certification Center formerly known as Grey's Typing & Computer Services formerly known as Grey's Typing School. Mrs. Grey is a visionary who believes in God and herself. She is highly self-motivated and of the philosophy that nothing is impossible, as long as there is breath in an individual. Her humble beginning started
in July of 1987
with six portable manual typewriters at the home of a family member.
Over the years as her goals and aspirations began to materialize she recognized that the technological era was fast approaching and she would have to evolve to be current and relevant to the changing global market.
In 2005 Mrs. Grey began to move into the Information technology era and started training persons in the area of Microsoft Office. In 2010 Mrs. Grey enrolled with the Grenada National Training Agency (GNTA) and was trained as a Competency Base Training Instructor, Assessor, Internal Verifier and External Verifier. Today she has the privilege of conducting internal and external verification processes for other approved centres under the GNTA. Mrs. Grey's Institution has grown from strength to strength and is currently a certified centre under the Incorporated Phonographic Society (IPS) England, Grenada's Ministry of Education and the Grenada National Training Agency.
Presently, the Institution offers courses in Customer Service, General Office, Accounting Clerk, Administrative Assistant, Customs Services, Data Operation,
Elementary, Intermediate and Advance typing and more.
Mrs. Grey is a family oriented person with a wonderful husband and loving children. With her faith firmly placed in God she will continue to improve and develop Grey's Training & Certification Center.